Most Popular
SpyNoMore
Registry Cleaner
PC Tools AntiVirus
SpyZooka
The Shield Pro 2007
Hide IP Platinum
SpamEater Pro
eTrust EZ Antivirus
Perfect Keylogger
Registry Booster
Handy Recovery
McAfee VirusScan
MyRegistryCleaner
The Shield Firewall
East-Tec Eraser
Spamologist 1.1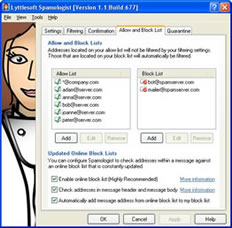 A Spam filtering, Spam inspector, Spam Blocking program unlike any other. Spamologist utilizes several fully customizable defense mechanisms; dictionary filtering, advanced dictionary filtering, advanced header filtering, allow ad blocking lists, online spam blocking lists and a state-of-the-art verification system. It is the only Spam inspector, spam filtering, spam blocking program of its kind that guarantees a reduction in spam of 100%, or your money back.

The confirmation feature requests all messages be verified by the original sender using the revolutionary confirmation system before they are delivered. Effectively preventing messages sent by advertising campaigns and fake email accounts from being delivered to your inbox. Making sure you only receive the messages that were sent by people with legitimate email addresses.


Using a series of pattern recognition techniques to decipher words, Spamologist is able to compare words in messages with those that are commonly used by email marketing campaigns. Even capturing spam that contains misspelt words or words that have letters that are replaced with numbers (or even symbols) - a sneaky technique that is often used in an attempt to trick some spam filtering software.

Additionally, Spamologist prevents emails with potential malicious attachments from making their way to your inbox. Which means it also protects your email inbox from viruses, security breaches and hacker attempts. As well as filtering false virus and undeliverable warnings which are an undirect result of viruses and worms and can often fill up your inbox.




Spam Filtering & Blocking Features
Works with your existing e-mail program
Spamologist is compatible with all of the major leading e-mail programs including Outlook, Outlook Express, Eudora, Mozilla Mail, Mozilla Thunderbird, Netscape Mail and Opera.
Revolutionary Confirmation System
The confirmation system is a state-of-the-art spam protection defense mechanism. Incoming messages must be confirmed by the original sender before they appear in your inbox. Making sure that the messages you receive were sent by a human being at a legitimate e-mail address and not from some mass e-mailing advertisement machine.
Customizable Dictionary Filtering
Filter messages that contain words commonly used by email advertising campaigns using the completely updatable dictionary. Configure each word individually to customize what other words can be used in the same message to diagnose it as Spam.
Advanced Dictionary Filtering
Prevent messages from slipping through your dictionary filters when advertisement campaigns purposefully use words that are mispelt or have letters replaced with numbers or symbols.
Advanced Header Filtering
Spamologist can check the unreadable part of the message (also known as the Mail Header) for suspicious content. Spammers often leave tell-tail signs and characteristics in the header that typically wouldn? occur when sent from a legitimate person.
Filtering Sensitivity
Select how sensitive Spamologist is when filtering messages. A higher sensitivity setting will be much stricter whereas a lower sensitivity setting will be more lenient.
Allow and Spam Blocking Lists
Messages sent from people who are on your allow list will never be filtered or blocked and will never be asked to confirm messages. While messages sent from people (or addresses) on your blocking list will never be delivered to your inbox.
Advanced Online Spam Blocking List for senders address
Stop messages sent from known spammer addresses from ever appearing in your inbox.
Advanced Online Spam Blocking List for website Addresses
Spamologist can check the entire messages for website locations and IP Addresses. These are then compared to an online database of known websites that market their products and services using spammer techniques.
Automatic Allow List configuration
When a message has been verified and confirmed by the original sender, the senders address can be automatically added to the allow list. This means that any further correspondence with this person will not be filtered or blocked.
Automatic Spam Blocking List configuration
If an email address is blocked using the online block list feature, the email address can be automatically added to your block list. This saves time and bandwidth later if another message is received from the same address.
Protect your computer against email viruses
Once Spamologist is installed it will start protecting your inbox from viruses and worms by blocking all emails that contain contain potentially malicious attachments, unless the file was sent from someone already on your allow list.
Prevent false warnings from spam and viruses
Many advertising campaigns and email viruses use false email addresses to send messages. When your email address is used by a spammer or virus you can often receive numerous warnings from mail servers regarding the content of the message. Spamologist prevents these messages from being delivered to your inbox unless a message was originally sent to the email address.
Automatic Update Feature
Keep Spamologist up to date to help combat the latest techniques used by spammers and marketing campaigns. Automatically update the dictionary filters and advanced filters to collectively reduce the amount of spam caught early to save the time and bandwidth required to diagnose mail.
Quarantine
All messages that are filtered, blocked and awaiting confirmation will never be deleted. Instead they are stored in Spamologists quarantine section. This insures that no messages addressed to your email address are ever lost forever.
Related software: