Most Popular
SpyNoMore
Registry Cleaner
PC Tools AntiVirus
SpyZooka
The Shield Pro 2007
Hide IP Platinum
SpamEater Pro
eTrust EZ Antivirus
Perfect Keylogger
Registry Booster
Handy Recovery
McAfee VirusScan
MyRegistryCleaner
The Shield Firewall
East-Tec Eraser
TZ Anti Spam Filter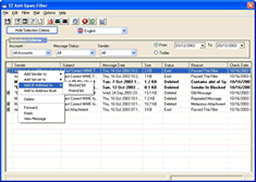 TZ Anti Spam Filter is powerful e-mail checker programs with effective spam elimination. Discover the safe way to stop unwanted viruses & spam e-mails before they get to your PC. Can be used as an effective privacy tool. This is the easiest, most effective way to manage your incoming e-mails like a pro in seconds. TZ Anti Spam Filter & Killer is the best solution to fight the spam mails in your e-mail accounts. Filters the messages using a multiple criteria like spam words, friend list, blocked list, & state of the art algorithm rules. Your account passwords are encrypted by a powerful encryption technique, so its too difficult for any one to hack your passwords. All messages text whatever deleted or resident in the mailbox are saved in your hard drive and appears in the main window list, the reason for deletion or existence and other checking information are also stated.
Features
Doesn't replace your current email program that logs onto any standerd POP3 or IMAP mail server.



There is a Friendly List and Blocked List, where the email is set up into these tow categories when the user configures the system. Additions or deletions to thoese two lists can be added as needed.



Any email that doesn't fall into the previous two main categories goes through a Spam Checking Algorithm, to determine if it should be added to the friendly or blocked list.



The user always has the last word before deleting any email.
Related software: