Most Popular
SpyNoMore
Registry Cleaner
PC Tools AntiVirus
SpyZooka
The Shield Pro 2007
Hide IP Platinum
SpamEater Pro
eTrust EZ Antivirus
Perfect Keylogger
Registry Booster
Handy Recovery
McAfee VirusScan
MyRegistryCleaner
The Shield Firewall
East-Tec Eraser
Spam Hound
Spam Hound gives you state of the art spam protection.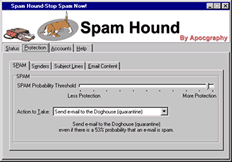 Spam Hound is a program that works with your current email reader analyzing your email and protecting you against a full range of damaging and time wasting emails. Spam Hound uses Neural Networks to automatically learn and adapt. The more spam you get the smarter Spam Hound gets! Spam Hound uses a full range of methods to analyze your email including Bayesian filtering, keyword analysis, collaborative information sharing, adaptive algorithms, heuristics, blackholes, automatic whitelisting and blacklists. Spam Hound comes preset defaults suitable for most users. Zero configuration is required. Just install and forget about it.
Spam Hound combines power with ease of use.
Fully Compatible
Spam Hound is fully compatible with all email readers and existing anti-virus software.
You will continue to use your email program such as Outlook, Outlook Express, Netscape, Eudora, The Bat, etc...



Easy to Install
Spam Hound detects your email account information, you do not need to reconfigure anything, simply install and forget about it.
Spam Hound uses a Neural Network to automatically adapt your personal email usage.



Automatic Whitelisting
Spam Hound automatically builds and maintains a whitelist of people who's email you don't want to block.
Spam Hound stops spam dead.
Spam Protection
Spam Hound uses a wide variety of spam tests all interpreted with a state of the art Neural Network that dynamically learns to detect spam based on your personal email usage and keep ahead of spammers changing tricks.
Spam Hound also allows you to fight back against spammers by categorizing a email as spam thus immunizing other users.



Full Mailing List Support
Spam Hound automatically detects and handles mailing lists.
Subscribed to a mailing list? Spam Hound ensures all their email gets through.
Didn't subscribe to a mailing list? Spam Hounds blocks all their email.
Related software: