Most Popular
SpyNoMore
Registry Cleaner
PC Tools AntiVirus
SpyZooka
The Shield Pro 2007
Hide IP Platinum
SpamEater Pro
eTrust EZ Antivirus
Perfect Keylogger
Registry Booster
Handy Recovery
McAfee VirusScan
MyRegistryCleaner
The Shield Firewall
East-Tec Eraser
BitDefender Antivirus 10
The antivirus software solution for your personal computer!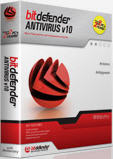 BitDefender Antivirus 10 is a powerful antivirus and antispyware tool with features that best meet your security needs. Ease of use and automatic updates make BitDefender Antivirus an 'install and forget' product .

Antivirus
The purpose of the antivirus module is to ensure detection and removal of all viruses in the wild. BitDefender Antivirus uses robust scan engines certified by ICSA Labs, Virus Bulletin, Checkmark, CheckVir and TÜV.

Antispyware
BitDefender monitors and prevents potential spyware threats in real-time, before they can damage your system. By making use of a comprehensive database of spyware signatures, it will keep your computer spyware-free.
Click Here to Buy Now for
: $ 39.95
ANTIVIRUS FEATURES:
IMPROVED Proactive Detection
B-HAVE (Behavioral Heuristic Analyzer in Virtual Environments) emulates a virtual computer-inside-a-computer where pieces of software are run in order to check for potential malware behavior. This BitDefender proprietary technology represents a new security layer that keeps the operating system safe from unknown viruses by detecting malicious pieces of code for which signatures have not yet been released.



Permanent Antivirus Protection
The new and improved BitDefender scanning engines will scan and disinfect infected files on access, minimizing data loss. Infected documents can now be recovered instead of being deleted.



Rootkit Detection and Removal
A new BitDefender module looks for rootkits (malicious programs designed to control victim computers, while staying hidden) and removes them on detection.



Web Scanning
Web traffic is now filtered in real-time even before reaching your browser, providing a safe and enjoyable web experience.



Peer-2-Peer and IM Applications Protection
Filters against viruses that spread via instant messaging and file sharing software applications.



Full E-mail Protection
BitDefender runs on the POP3/SMTP protocol level, filtering incoming and outgoing e-mail messages, regardless of the e-mail client used (OutlookTM, Outlook ExpressTM, The Bat!TM, Netscape®, etc.), without any additional configuration.
ANTISPYSHARE FEATURES:
Real-Time Antispyware
BitDefender monitors dozens of potential "hotspots" in your system where spyware might act, and also checks any changes made to your system and software. Known spyware threats are also blocked in real-time.



Spyware Scanning and Cleaning
BitDefender can scan your entire system, or just part of it, for known spyware threats. The scan uses a constantly updated spyware signature database.



NEW Privacy Protection
The privacy guard monitors HTTP (web) and SMTP (mail) traffic flowing out of your computer for what might be personal information –such as credit card numbers, Social Security numbers and other user-defined strings (e.g. bits of passwords).



Anti-Dialer
A configurable anti-dialer prevents malicious applications from running up a huge telephone bill at your expense.



Cookie Control
The antispyware component filters incoming and outgoing cookie type files, keeping your identity and preferences confidential when you're browsing the Internet.



Active Content Control
Proactively blocks any potentially malicious application such as: ActiveX, Java Applets or Java Scripts type codes.
OTHER FEATURES :
IMPROVED Deployment and Use
A setup wizard starts immediately after installation, helping users select the most appropriate update settings, implementing a scanning schedule and providing a quick path to the registration and activation of the product.



IMPROVED User Experience
BitDefender has redesigned the user experience, placing emphasis on ease of use and clutter avoidance. As a result, many BitDefender v10 modules require significantly less user interaction, through the convenient use of automation and machine learning.



Hourly Updates
Your copy of BitDefender will be updated 24 times a day over the Internet, directly or through a Proxy Server. The product is able to repair itself, if necessary, by downloading the damaged or missing files from BitDefender servers.



24/7 Support
Offered online by qualified support representatives and by accessing an online database with answers to Frequently Asked Questions.



Rescue CD
BitDefender Antivirus v10 is delivered on a bootable CD. This CD can be used to analyze/repair/disinfect a compromised system which cannot be started.
System requirements:
Pentium II 350 MHz or higher processor
Minimum 128 MB of RAM Memory (256 MB recommended)
Minimum 60 MB available hard disk space
Windows 98/NT-SP6/Me/2000/XP IE 5.5 (+)
Related software: