Most Popular
SpyNoMore
Registry Cleaner
PC Tools AntiVirus
SpyZooka
The Shield Pro
Hide IP Platinum
Perfect Keylogger
Registry Booster
Handy Recovery
McAfee VirusScan
MyRegistryCleaner
The Shield Firewall
East-Tec Eraser
McAfee Personal Firewall Plus
Protect your PC!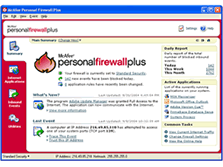 Protect yourself while online with the advanced security of McAfee® Personal Firewall Plus. Easy-to-use, yet highly secure, McAfee Personal Firewall Plus safeguards your PC's connection to the Internet whether you connect via DSL, cable modem, satellite, or dial-up. McAfee Personal Firewall Plus gives you the powerful tools to both control and monitor communication in and out of your PC.
Click Here to Buy Now for
: $ 29.95
Benefits :
Identity Theft Prevention
Places an easy-to-use, always on-guard barrier between hackers and your hard drive, blocking access to sensitive files, financial records and personal data.



Traffic Monitoring
View both incoming and outgoing data across your Internet connection and view the Internet bandwidth of certain applications. The Traffic Monitor also allows you to view application connections and see the IP addresses that the applications are connecting to in real time.



Improved! Intelligent Application Handling
Automatically denies outbound Internet access to malicious applications that might secretly transmit personal data to hackers, while allowing trusted programs to connect without unnecessary alerts or false alarms.



NEW! Advanced Worm Protection
Helps stop virus-like worms from using your PC to spread themselves.



NEW! Enhanced Smart Recommendations
Denies outbound Internet access to malicious applications (spyware, trojans and remote-control agents) that might surreptitiously transmit personal data to hackers, while "fingerprinting" trusted programs to connect without unnecessary or false alarm alerts. An improved application database now offers more details about connecting programs.



Enhanced Intrusion Prevention
Features easy-to-read graphical maps showing the source of hostile attacks and traffic worldwide, including detailed contact/owner information from originating IP addresses and all subsequent steps to your PC. Now includes improved Visual Trace geographical data, helping pin-point locations of intruders.



Exclusive! HackerWatch.org Integration
Links to a dedicated anti-hacker database (maintained by McAfee) offering users the ability to report hack attacks and tips on responding to specific attacks. Included are self-testing tools and channels of email communications to online authorities.



Event Information
Records day-at-a-glance and weekly intrusion attempts and unsolicited Internet traffic involving your PC.



Custom Blocking
Allows on-demand blocking of traffic from specific computers and systems with options to ban entire ranges of IP Addresses and set time limit rules.



Improved! Setup Assistant
Simple, step-by-step instructions help install firewall protection in just minutes, even for beginners.
Related software: