Most Popular
SpyNoMore
Registry Cleaner
PC Tools AntiVirus
SpyZooka
The Shield Pro 2007
Hide IP Platinum
SpamEater Pro
eTrust EZ Antivirus
Perfect Keylogger
Registry Booster
Handy Recovery
McAfee VirusScan
MyRegistryCleaner
The Shield Firewall
East-Tec Eraser
AMUST Registry Cleaner 3.11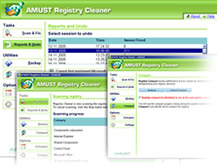 Buy Now
: $ 29.99
Download
: 1.62 MB
AMUST Registry Cleaner introduces a new approach to Windows registry maintenance that combines the latest technology and deep knowledge of the system registry to reach an unparalleled level of system performance and problem resolution, while being absolutely safe to use.

AMUST Registry Cleaner rapidly scans your registry for any problems and safely gets rid of them in minutes, keeping your registry clean. AMUST Registry Cleaner's features:error removal ;windows registry fix;performance augmentation.

AMUST Registry Cleaner engine is built on SmartScanTM technology that provides for analysis of every vital part of the registry to find problems and bottlenecks that interrupt normal system operation. SmartScanTM is based on a sophisticated algorithm that provides for error prone problem detection and resolution, making it an ideal instrument for registry repairs.Other features include:IntelliCompact; Undo; Intuitive Interface; Scheduled Tasks - "Set & Forget"; Email Notifications.
Key Features :
SmartScanTM
Scans and repairs the registry based on knowledge.
SmartScan does the job the proper way – if it is not sure about the registry record it doesn't discard it but works to find out if the record is valid and important.



IntelliCompactTM
Reduces the registry size and defragments it by removing the holes and empty spaces in the registry tree .



Embedded-null registry keys
Detect and clean non-removable, aka Embedded-null registry keys .



Undo
Lets you rollback any change made to registry during repair .



Intuitive Interface
Built with clear design and usability in mind, the user interface provides the highest level of program function availability to users of any experience level .



"Set and Forget"
Schedule registry maintenance tasks .
How you benefit using it
Eliminates the risk of something important being erased and results in a healthy registry, with less errors and better computer performance.



Similarly to the defragmentation of files, compacting the registry removes holes and fragments causing your computer to run smoother and faster.

Provides for top notch system performance.



These keys can't be detected and removed by standard registry-editing tools. These non-removable registry keys are used by most rootkits and other malware to store malicious code. In addition, some software vendors use the embedded-null registry key technique as a way to enforce the software license agreement and to reduce the ability for users to tamper with the license information stored in these registry keys.



When you repair the registry, you may occasionally delete or change something that negatively impacts system operation. With the undo feature you can rollback any change without affecting other parts of the registry.



You don't need to spend a lot of time digging through all program features when you need an immediate result. All the options are at your finger tips for total control of your registry condition. Advanced features are available for sophisticated users as well.



Schedule registry scan, fix, backup and compact, and eliminate the routine in registry maintenance. Select the most convenient time and AMUST Registry Cleaner will do the rest .
System Requirements
Microsoft Windows 2000, XP or Server 2003 with Internet Explorer 5.5 or above
5MB of free disk space
128MB of RAM
Related software: