Most Popular
SpyNoMore
Registry Cleaner
PC Tools AntiVirus
SpyZooka
The Shield Pro 2007
Hide IP Platinum
SpamEater Pro
eTrust EZ Antivirus
Perfect Keylogger
Registry Booster
Handy Recovery
McAfee VirusScan
MyRegistryCleaner
The Shield Firewall
East-Tec Eraser
Panda Antivirus 2007
Extremely light easy-to-use protection against all types of viruses and spyware.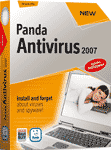 The new Panda Antivirus 2007 makes protecting your computer as easy as possible, because it automatically blocks and removes all types of viruses and spyware so you can surf the Internet, send and receive email play games, download files, chat online… and relax. Plus, it's small and super-efficient, so your computer runs faster! And now, for each Panda Antivirus 2007 product purchase, you will obtain protection for up to 2 PC's.
Key Features :
Automatically detects and eliminates all types of viruses.
Viruses, worms, and Trojans have evolved and multiplied. Now they are designed to infect without you noticing. Panda Antivirus 2007 automatically detects and eliminates them to keep your PC virus-free. Forget about infections!



Keep your PC free from spyware.
The Internet is teeming with spy programs that can invade your privacy and steal information by secretly snooping on your online activity.
Spyware can also slow down your PC, cause annoying and aggressive pop-up ads, and change your computer settings.
Panda Antivirus 2007 detects and completely removes spyware and other annoying programs automatically.
Safeguard your privacy!



Protects against online fraud:
New sophisticated online fraud techniques emerge every day. These scams are designed to obtain your login details, account numbers and other data that can then be used to steal your money or identity.
Panda Antivirus 2007 will keep you safe from these dangerous scams. Bank and shop online with complete peace of mind.



Automatic daily updates.
The product is automatically updated, at least once a day, to protect you against viruses, spyware and other threats.
System Requiremnets:
Processor: Pentium 150 MHz or faster
RAM: 64 MB
Hard disk: 110 MB free space
Operating system: Windows XP, 2000 Pro, Me, 98
Internet Explorer 5.01
CD-ROM drive
Related software: