Most Popular
SpyNoMore
Registry Cleaner
SpyZooka
The Shield Pro
Hide IP Platinum
SpamEater Pro
Perfect Keylogger
Registry Booster
Handy Recovery
McAfee VirusScan
MyRegistryCleaner
The Shield Firewall
East-Tec Eraser
RegFix Mantra 2.1
Extremely Effective Registry Cleaner designed to fix Windows Errors, registry Inconsistencies and enhance performance of your PC.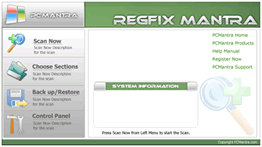 Extremely effective Registry Cleaner designed to fix Windows Registry Errors, remove all registry inconsistencies and enhance performance of your PC. Eliminates all windows registry errors, hence optimizing your PC. New Added Features.
Browser Help Objects (BHO) Management
Add Remove Program Management
Startup Programs Management
Why do you need a Registry Cleaner?
---
With due course of time, Windows Registry gets effected due to newer software installations, uninstallation, Adwares, spywares, Trojans, viruses etc.

These changes generate inconsistencies in the Windows registry. The inconsistencies may be of varied nature like Empty keys, false uninstall information, missing cross references etc.

These inconsistencies results in degrading PC performance, slower command executions, system crashed, windows internal errors and difficult to understand Windows Errors.

It adversely effects your favorite software to run slow or low performance. All this renders the system unstable and more prone to crashes .
What will PCMantra's RegFix Mantra do?
---
RegFix Mantra is an extremely user-friendly and highly advance end tool, made easy for all windows users. It is highly advisable to take immense care with windows registry. With PCMantra's RegFix Mantra, you dont have to be scared any more. It safely cleans all the errors from your registry, while you have a piece of mind.

Within few minutes and fewer mouse clicks, you can easily attain maximum optimization of your resources with RegFix Mantra. It shall scan your complete registry and fix the problems.
RegFix Mantra Features:
---
Scans 13 sections, including complete registry scan and hard disk for comprehensive check up
Describes each and every invalid entry before deleting
Options of backing up of registry and subsequent restore from previous backups
Scans every shortcut in your hard disk, thus eliminating any incorrect shortcut files
BHO Manager, to remove the selected Browser Helper Objects. New
Startup Management enables users to manage the applications running in Startup. New
Manage Add Remove Program list. New
Optimizes your system, increase OS stability and speeds up your softwares
Life long email support for Registry Cleaner
One year product upgrades free of cost
Support Windows 7, 2000, XP, Vista
Related software:
---