Most Popular
SpyNoMore
Registry Cleaner
PC Tools AntiVirus
SpyZooka
The Shield Pro
Hide IP Platinum
SpamEater Pro
eTrust EZ Antivirus
Perfect Keylogger
Registry Booster
Handy Recovery
McAfee VirusScan
MyRegistryCleaner
The Shield Firewall
East-Tec Eraser
BPS Spyware and Adware Remover 9.2.0.4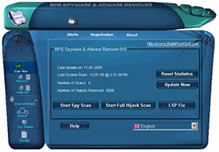 Is a multi Adware, SpyWare, Trackware, Thiefware & Big Brotherware removal utility with multi-language support. It scans your memory (for active memory ad components, which are not stored on your hard drive and last only as long as the computer is powered up), registry and hard drives for known SpyWare parasites and scum-ware components and lets you remove them safely even ad component DLLs. This tool is great if you value bandwidth, memory, & privacy, it hunts down those SpyWare programs hogging resources and causing conflictions on your computer.
Key Features:
Scans for almost all SpyWare components out there today!
Easy to use (just one click of a mouse)
Scans Running processes (Memory), Registry, Fixed, and removable drives.
Backup and restore removed items.
Multi-Language Support
Ignore List (Found items can be ignored)
Also features Spy-Watch
Also features Popup-Watch
Also features BHO Manager
Also features Startup Manager
Registered users get at least 1 year of free upgrades.
What's New in Version 9.2.0.4?
Firewall: If you are not protected you could be a victim of hackers that could invade your equipment while you are connected to the net. The permanent connections such as DSL or the fact that you are connected to the Internet for a longer period of time make you more vulnerable. Protect your business and home information. Avoid the entrance to your equipment through backdoors that could allow the stealing of information from it, cause failures, entrance of trojan viruses or getting into your business net. The Firewall monitors the programs that try to connect to the net or wait for incoming connection then alerts the user and lets him decide whether to allow or block this connection.
Anti-phishing: Phishing is the all inclusive term used to describe efforts to deceive consumers into going into a phony web site through forged or "spoofed" spam email. BPS is on the front lines of the fight against phishing, to reel in Online scammers. BPS spyware remover warns you when you try to connect to such type of sites, So you can protect your personal or financial information.
System Shields including:

Startup Shield that monitors if any program tries to set itself to run at windows startup.
IE Hijack Shield that monitors if changes are done to IE settings like search page and local page.
IE home page shield that monitors any change to your IE default web page.
Firewall as a system shield

Alerts, The alert will fire if any of the system shields catches spyware.
The program now can run in the system tray to make use of the powerful system shields and alerts and access the program functionality in a fast and easy way.
You can now right click in a folder in your windows explorer and scan it with BPS Spyware & Adware Remover.
Quarantine that packs up and removes the selected found spywares.
Scheduler to schedule the program to run at specific times.
Faster scanning algorithm, since we are using a new technology for scanning and loading the database.
Easy to use and navigate interface.
Spyware Remover Comes with the following default languages:
Arabic
Chinese
English
French
German
Italian
Japanese
Korean
Portuguese
Spanish
System requirements:
at least 10 MB free space at HD

Windows 2000/2003/XP/Vista/Windows 7

Related software: