Most Popular
SpyNoMore
Registry Cleaner
PC Tools AntiVirus
SpyZooka
The Shield Pro 2007
Hide IP Platinum
SpamEater Pro
eTrust EZ Antivirus
Perfect Keylogger
Registry Booster
Handy Recovery
McAfee VirusScan
MyRegistryCleaner
The Shield Firewall
East-Tec Eraser
AntiSpy 2.13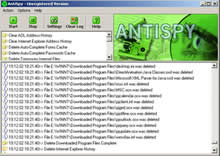 You can eliminate the traces of your work in Internet Explorer (IE), AOL, Netscape Navigator, Mozilla and Opera browsers, Start Menu, Windows and Common Controls and others. It offers a variety of cleaning operations that are set up and tuned from the Settings dialog boxs!

After having performed a complete clearing of your PC, you can be sure than nobody will get information about the Web-sites you have visited, the documents you have opened, the messages you have sent and the applications you have used.
Anti Spy Overview:
clean online and offline tracks
bleach data for total privacy protection
exclude lists supported to give more control over your files
see complete cleaning log
free space on your hard drive
improve your system performance
Anti Spy Online Cleaning:
Browser and location drop-down list history
Cookies
Cache
index.dat files
Internet Explorer plugins
Downloaded Program files
Temporary Internet files
Auto-complete forms and passwords
Browser title and home page protection
Anti Spy Offline Cleaning:
Run History
Find History
Recently opened document list
Bleach swap file
Windows temp file folders
Registry logs
Clipboard and Recycle Bin
Last User and Domain Logon
media player, realplayer and ACDSee history
What else Anti Spy can do for you?
Clean Start Menu tracks
Clean Start Menu Click history and Order history
Support of all popular browsers
Internet Explorer, AOL, Netscape Navigator, Opera, Mozilla browsers supported.
Bleach for extra security
Completely overwrite files with random characters making them unrecoverable by undelete or unerase utilities - a security feature which exceeds the tough standards of the Department of Defense.
Exclude lists
Save valuable files in exclude lists to maintain your preferred Internet settings and log-ins.
Boost performance
Remove unneeded files to recover hard disk space and speed up system performance.
Related software: