Most Popular
SpyNoMore
Registry Cleaner
PC Tools AntiVirus
SpyZooka
The Shield Pro 2007
Hide IP Platinum
SpamEater Pro
eTrust EZ Antivirus
Perfect Keylogger
Registry Booster
Handy Recovery
McAfee VirusScan
MyRegistryCleaner
The Shield Firewall
East-Tec Eraser
AntiSpy Pro 1.02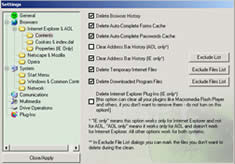 AntiSpy Pro deletes the history of your activities on PC. Use this anti spy software to delete cookies, clear index.dat, delete history, erase tracks.
AntiSpy Pro erase tracks of your work in Internet Explorer (IE), Netscape Navigator, Mozilla and Opera browsers, Start Menu, Windows and Common Controls, etc.
AntiSpy Pro performs clearing of your PC, deletes the information about the Web-sites you have visited, the documents you have opened, the messages you have sent and the applications you have used.
AntiSpy Pro will protect your privacy and save you time.
Antispy Pro Features Overview
Protection & safety :

Delete Cookies, Delete History, Erase online and offline tracks.
Bleach data for total privacy protection.

Flexibility :

Exclude lists supported to give more control over your files
Powerfull PluginsFactory program

Time:

Delete all unnecessary information, only in one click
Cleaning your drives to improve your system performance
Free space on your hard drive

Comfort :

Suitable programm settings
Complete cleaning log

Profit :

AntiSpy Pro possesses all necessary features, which you will not found in other similar software. Look at the
Related software: