Most Popular
SpyNoMore
Registry Cleaner
PC Tools AntiVirus
SpyZooka
The Shield Pro 2007
Hide IP Platinum
SpamEater Pro
eTrust EZ Antivirus
Perfect Keylogger
Registry Booster
Handy Recovery
McAfee VirusScan
MyRegistryCleaner
The Shield Firewall
East-Tec Eraser
AdArmor
Block Annoying Ads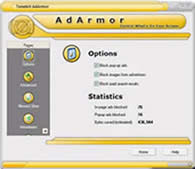 When surfing the Web you encounter a multitude of advertisements, inappropriate sites and unsolicited content. AdArmor eliminates ads, prevents unsuitable content from reaching unsuspecting eyes and saves your bandwidth, giving you a faster Internet connection.

With AdArmor, you reclaim control of your computer screen.
Features
Enables you to eliminate all types of advertisements, including pop-ups, in-page and paid search engine ads, as well as ActiveX, flashing text, animated images and more.
Shuts down annoying messages
Updates itself automatically to block new advertisers and to keep up with advances in ad technology.
Allows you to exclude selected Web sites from your ad-blocking preferences, permitting sites that require pop-up windows to function correctly.
Saves time and bandwidth, since blocked ads are not downloaded
Statistics show the amount and type of ads blocked and the number of bytes saved.
System requierments
Windows 2000/XP/Vista/Windows 7
Pentium 500MHz or better
128 MB RAM
20 MB harddisk space
Related software: