Most Popular
SpyNoMore
Registry Cleaner
PC Tools AntiVirus
SpyZooka
The Shield Pro 2007
Hide IP Platinum
SpamEater Pro
eTrust EZ Antivirus
Perfect Keylogger
Registry Booster
Handy Recovery
McAfee VirusScan
MyRegistryCleaner
The Shield Firewall
East-Tec Eraser
PC Lighthouse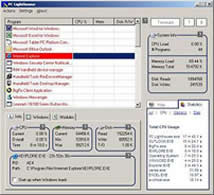 PC Lighthouse provides:
Control - You decide what will run on your PC.



Information - Provides instantaneous and cumulative information on all running programs, including several key usage statistics



Security - Be aware of any spyware, adware, keyloggers and tracking threats on your PC.
PC Lighthouse allows you to:
View all running system and user programs.



Kill any program.



Block any programs from starting again.



Know the CPU, memory, and disk usage of each program.



Identify windows and modules running.



. . . more
Main Program List
Listing of all running programs: displays CPU, Memory Usage and Disk Usage.
Separated into Blocked Programs, User Programs, and System Programs.
Program List can be ranked according to user preference by any variable.
Context-sensitive actions activated by right-clicking running programs.
Program Information Pane
Detailed description of currently selected program, including information on the following:
CPU usage as a percentage of total CPU use.
Memory usage measured in kilobytes.
Disk usage measured in kilobytes.
Program identification number.
Program path.
Manual manipulation of windows, including locking to foreground, hiding, minimizing, maximizing.
Information on program modules, including module name and module path
System Program Statistics
Detailed System Information, including the following:
Accumulated CPU Usage by all running programs.
Memory Usage by running programs since PC Lighthouse startup.
Disk usage by programs.
Terminating and Blocking Programs
PC Lighthouse permits the termination and blocking of any running program.
Two-stage attempt at termination (first attempting a soft shut-down, then, if unsuccessful, a hard kill).
Any program may be blocked from running again; PC Lighthouse must be running.
The Main Program List displays Blocked Programs at the top (if chosen from the Settings menu).
Terminate and Block either from the context-sensitive right-click menu or dedicated buttons.
Block List displays blocked program's path, the date program was first blocked, and the number of times PC Lighthouse has blocked it.
UnBlock programs from either the Program List or from the Block List.
System Info
Detailed System Information, including the following:
Current CPU Load.
Number of Programs running.
Memory load, and memory available.
Disk reads and writes since PC Lighthouse startup.
Related software: