Most Popular
SpyNoMore
Registry Cleaner
PC Tools AntiVirus
SpyZooka
The Shield Pro
Hide IP Platinum
SpamEater Pro
eTrust EZ Antivirus
Perfect Keylogger
Registry Booster
Handy Recovery
McAfee VirusScan
MyRegistryCleaner
The Shield Firewall
East-Tec Eraser
eXtended Task Manager 1.90
Extended Windows Task Manager and Performance Monitoring tool, for optimizing Developer Environments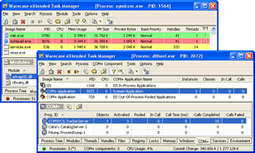 Buy Now :
$ 55.00
Download:
2.47 MB
The Warecase eXtended Task Manager (XTM) is a powerful auxiliary tool designed for simplifying the environment of the software developer. XTM is an extended windows task manager and performance monitoring tool for Microsoft Windows 2000 OS and later versions of Windows. XTM can give fast solutions for sudden problems which may arise in a product's functioning without having to either reinstall it from the user workstation or even without needing to close the application.
Debugging and improving application development.
A rich workstation investigation tool.
White box testing sessions for the QA department.
Investigation tool for integration possibilities.
Accelerating application support process.
And much more...

XTM for Task Management

XTM task management features allow the user easier access to previously unavailable or only partially available information concerning specific tasks, their allocation and use of resources, diagnostic information on different processes, process life cycles, etc. XTM monitoring, in addition to providing a basic view of preprocess statistics, also provides a vast variety of other details including information per module, per handle, per lock, per thread, per file, per registry key, per window, per COM+ component, per service and per environment variable.

XTM for Resources Management

XTM resources management allows the user to influence process behavior, life cycle continuation and performance, free resources previously allocated, find and unload loaded modules, show, hide and close process windows and much more. These features enable troubleshooting throughout the programming process.

XTM for Workstation Management

XTM workstation management allows the user to manage his workstation, i.e. log off or restart the workstation, run, stop or pause the services, etc. While these features can generally be accessed by the user, XTM provides access to all features in one, easy to implement, menu.

Key features:
Full process management.
Monitor process modules.
Monitor process handles.
Monitor critical sections.
Monitor process threads.
Monitor process files.
Monitor registry keys.
Monitor process memory.
Monitor process windows.
Monitor COM+ components.
Monitor services.
Monitor active TCP/UDP connections.
Monitor environment variables.
Monitor process performance.
Monitor process statistics.
Manage process resources.
Filtering processes by particular criteria.
Free resources previously allocated.
Manage synchronization objects.
Find the required resources.
Workstation services management.
Workstation power management.
Multiple processors support.
Tracing.
Different Uses of XTM
R&D department: Debugs and improves application development.
QA department: White box testing sessions.
Support department: Reduce support costs and improve customer service.
System administrators: Rich investigation and troubleshooting tool for single computer.
System Requiremnets:
Intel Pentium III
Windows 7/2000/XP/Vista
128MB of RAM.
5MB of available hard-disk space
VGA or higher-resolution monitor