Most Popular
SpyNoMore
Registry Cleaner
PC Tools AntiVirus
SpyZooka
The Shield Pro
Hide IP Platinum
SpamEater Pro
eTrust EZ Antivirus
Perfect Keylogger
Registry Booster
Handy Recovery
McAfee VirusScan
MyRegistryCleaner
The Shield Firewall
East-Tec Eraser
eTrust Internet Security Suite
Total Internet Protection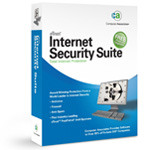 eTrust Internet Security Suite provides comprehensive protection against viruses, hackers, identity thieves, spyware, spam and other online threats that can jeopardize your privacy, your data, and your PC's performance. It combines easy-to-use, business-strength technology with preconfigured settings and automatic updates that take the guesswork out of PC security.

eTrust Internet Security Suite includes:
eTrust EZ Antivirus - detects and eliminates viruses, worms and Trojan horse programs
eTrust Personal Firewall - stops hackers from attacking your PC
eTrust PestPatrol® Anti-Spyware - protects against spyware, adware and other non-viral threats
eTrust Anti-Spam - blocks 100% of unwanted spam


Click Here to Buy Now for : $ 69.99


Key features :

eTrust EZ Antivirus
File Quarantine.
Removes malware from its current location to a secure quarantine area to allow you to further review the file.



Scheduled and On-Demand Scanning.
Allows you to run a scan at any time, or schedule scans at pre-selected intervals to meet your needs.eats.



Real-time Scanning.
Scans files when they are opened, closed or saved to your PC.



Automatic Email Scanning.
Scans inbound email and attachments for all POP3 email clients.



Advanced Heuristic Scanning.
Stops new and unknown viruses even before they are detected by signature files.
eTrust Personal Firewall:
Stealth Mode.
Makes your PC invisible to hackers and barricades its ports from attack.



Automatic Program Configuration.
Provides you with up-to-the-minute advice on which programs are safe and which are dangerous.



Identity Theft and Fraud Protection.
Safeguards personal data from online thieves by alerting you when personal information is about to leave your PC through the Internet or email, allowing you to block the transmission.



Ad Blocking.
Removes annoying pop-up and pop-under ads.



Customized Alerts.
Provides instant recommendations on how to handle programs' attempts to access the Internet, intrusion attempts, and other security events.



MailSafe.
Protects you from spreading viruses by quarantining suspicious attachments.
eTrust PestPatrol Anti-Spyware:
Spyware Detection and Removal.
Scans your PC for a comprehensive range of destructive pests. Scan results tell you the specific threat level of pests found, and allow you to link to an extensive pest database for more information.



On-Demand Scanning.
Launch scans on-demand, or schedule regular scans to meet your needs. Custom scans allow you to select specific disks, files and folders to scan.



Real-time Protection.
Active Protection kills active pests in memory and removes spyware cookies before they can collect and transmit your personal data.



Automatic Pest Updates.
Automatically downloads and installs updates whenever they're available. The extensive pest database is continually updated to provide proactive protection against new threats.
eTrust Anti-Spam:
Protects Multiple E-mail Accounts.
Monitors inbound messages for all of your Microsoft Exchange and any POP3 mail accounts you have configured in Outlook.



Optional Challenge/Response.
Automatically attempts to confirm that senders of quarantined messages are real people, not automated spam robots.



Spoof-Proof Fraud Protection.
Automatically verifies the authenticity of messages using industry-standard digital signatures.
System Requiremnets:
Windows 7/2000/XP/Vista
128MB RAM
300MHz or higher
Pentium III CPU
Outlook Express 5.5/6.0 or higher
Free Disk Space: 40MB
Related software: