Most Popular
SpyNoMore
Registry Cleaner
PC Tools AntiVirus
SpyZooka
The Shield Pro 2007
Hide IP Platinum
SpamEater Pro
eTrust EZ Antivirus
Perfect Keylogger
Registry Booster
Handy Recovery
McAfee VirusScan
MyRegistryCleaner
The Shield Firewall
East-Tec Eraser
Tracks Eraser Pro 5.7
Erase all tracks of your Internet activity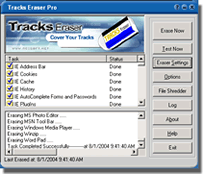 Internet & Windows history Erasing
Windows history Erasing
Secure Erasing files beyond recovery
Support over 100 popular applications
Mozilla FireFox support
Mozilla Thunderbird support
Custom Items
File Shredder
Clean Disk Free Space (Wipe previously deleted files beyond recovery, now support removable disk)
Scheduling Erasing
Stealth Mode
Boss Key
AOL 9 support
Outlook Express support
Homepage Protection
Deletes following history data for you:
Delete Address bar history of IE, Netscape, AOL, Opera
Delete Cookies of IE, Netscape, AOL, Opera
Delete Internet cache (temporary Internet files)
Delete Internet history files
Delete Internet search history
Delete history of autocomplete
Delete IE plugins (selectable)
Delete index.dat file
Delete history of start menu run box
Delete history of start menu search box
Delete windows temp files
Delete history of open/save dialog box
Empty recycle bin
Delete history of up to 100 popular applications:
Delete playlist history of Realplayer
Delete RealOne playlist history
Delete Media Player playlist history
Delete playlist history of Divx Player
Delete QuickTime playlist history
Delete Microsoft Office recent files list
Delete Winzip recent extract files list
Delete Acrobat recent files list
Delete history data of over 100 other popular applications
Other great features includes:
Secure Erasing overwrites the files a specified times with blank character, gives you the confidence that once erased by Internet History Eraser, the files will be gone and no one can recover/undelete them.



Custom Erase Item you can choose to erase your own files and registry



Homepage Protection prevent the websites from modifying your homepage



Boss Key you can hide the opened browser's windows when other come in



Free up valuable hard-drive space it can free up a lot of disk space used by the cache and temp files



Clean Free Space Clean the free space of hard disk by overwriting every bytes of the free space with blank characters. this makes the deleted files unrecoverable.



Schedule Erase You can start an erase on windows startup/shutdown, or browser's shutdown, and even a specified interval you chose.



File Shredder With it, you can shred files easily, it overwrites files with blank characters several times (you choose), this prevents others from recovering your files.



Stealth Mode It can run in the background silently, no one except you know it's working and protecting your privacy



Test Mode you can see what files and registry entries will be erased before they are really erased.



Live Update You will be notified once a new version or new plugins are available for download. you can download the new version or new plugins directly in the program.
Related software: