Most Popular
SpyNoMore
Registry Cleaner
The Shield Pro
Hide IP Platinum
SpamEater Pro
Perfect Keylogger
Handy Recovery
McAfee VirusScan
MyRegistryCleaner
The Shield Firewall
East-Tec Eraser
McAfee AntiSpyware
Eliminate malicious applications before they can steal your identity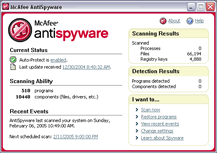 Is someone tracking your every online move? Essential protection for today's security-conscious Internet user, McAfee AntiSpyware quickly detects then safely eliminates malicious applications — e.g., key loggers, remote-control programs, browser hijackers — hiding on your system before they can rob your identity, snatch passwords or monitor browsing activity when you surf or shop. Erasing online roadblocks, McAfee AntiSpyware also foils adware programs that trigger annoying advertisements and sap system performance.
Click Here to Buy Now for
: $ 39.99
Benefits
Exclusive! Advanced "Auto-Protect" Technology alerts users when potentially hostile applications attempt to install and run, providing options to block the threat at the gateway.



Multiple Scanning Options (On-Demand and On-Execution) allow users to perform thorough or custom scans depending on their need. The default setting performs a full system scan.



One Year of Automatic Updates prompts users to download and install the most up-to-date protection against spying and tracking programs.



Extensive Detection Database provides a thorough database of adware, spyware and keylogging programs. This database is continuously updated to keep up with the plethora of programs created daily by hackers.



Uninstall Flexibility allows you the choice to uninstall tracking programs using that program's uninstaller (if available), or McAfee AntiSpyware's removal technique, which removes all traces of the program.



"One-Stop-Shop" Identification and Removal of all components and files associated with spyware; allowing users to remove any and all associated files in one click.
System Requirements
CD-ROM drive for installation
Windows 7, 2000, Vista, XP
PC with a Pentium 100MHz or higher processor
128MB RAM
5MB Hard disk space
Internet Explorer 5.5 or higher
Internet access for product updating
Related software: