Most Popular
SpyNoMore
Registry Cleaner
PC Tools AntiVirus
SpyZooka
The Shield Pro 2007
Hide IP Platinum
SpamEater Pro
eTrust EZ Antivirus
Perfect Keylogger
Registry Booster
Handy Recovery
McAfee VirusScan
MyRegistryCleaner
The Shield Firewall
East-Tec Eraser
SpyBuddy 3.7
Stealth PC Monitoring Spy Software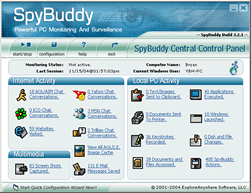 SpyBuddy is the award-winning, powerful spy software and computer monitoring product for monitoring spouses, children, co-workers, or just about anyone else! SpyBuddy allows you to secretly monitor all areas of your PC, tracking every action down the last keystroke pressed or the last file deleted.

SpyBuddy comes equipped with the functionality to record all e-mail's sent and received, all AOL, ICQ, MSN, AIM, Yahoo, and Trillian chat conversations, all web sites visited, all windows opened and interacted with, every application executed, every document printed, every file or folder renamed and/or modified, all text and images sent to the clipboard, every keystroke pressed, every password typed, and more!
Surveillance and Logging Features
Internet Conversation Logging - Log and record both sides of all chat and instant message conversations for all of the follows chat platforms...


AOL (Including AOL 9.0 Optimized!)
AOL Instant Messenger
MSN Messenger 7.5
DeadAIM
ICQ - Both Lite and Pro versions
Yahoo Messenger (Including 7.0)
Trillian Messenger 2.0 and 3.0




E-Mail Message Logging (POP3/SMTP) - Record and save all e-mail messages sent and received from the PC you are monitoring. Works with ALL POP3 and SMTP supported e-mail clients, such as Outlook, Outlook Express, Eudora, and more!



Disk Activity Logging - Record all changes made to your hard drive and external media. SpyBuddy will record all of the following:


Created Directories
Created Files
Renamed Files
Deleted Directories
Deleted Files
Renamed Files




Window Activity Logging - Capture information on every window that were viewed and interacted with.



Application Activity Logging - Track every application/executable that was executed and interacted with.



Clipboard Activity Logging - Capture every text and image item that was copied to the clipboard.



AOL/Internet Explorer History - View All AOL and Internet Explorer websites visited before SpyBuddy was installed, and when SpyBuddy was not recording!



Printed Documents Logging - Log specific information on all documents that were sent to the printer spool.



Files/Documents Accessed - Log all files and documents that were viewed from inside Windows Explorer (text files, videos, images, etc.).



Keystroke Monitoring [before | after] - Track all keystrokes pressed [including hidden system keys!] and which windows they were pressed in. Keystrokes can also be passed through a formatter for easy viewing/exporting.



Website Activity Logging - Record all website URL's that users access. Currently, SpyBuddy is 100% compatible with all of the following web browsers:


Internet Explorer
Opera
America Online (Including 9.0 Optimized)
Mozilla FireFox
Netscape (Including version 7.2)




Screen Shot Capturing - Automatically capture screen shots of the desktop (or the active window) at set intervals - perfect for visually seeing what was happening on your PC when you weren't around!



SpyBuddy Activity Logging - SpyBuddy will keep track of all user shutdowns, SpyBuddy interaction, e-mail deliveries, invalid password attempts, and more for later review.
Filtering/Parental Control Features
Website Filtering - SpyBuddy allows you to manage a list of websites that you wish to have SpyBuddy disable access to while it is running.



Application Filtering - SpyBuddy allows you to manage a list of applications that you wish to have SpyBuddy disable access to while it is running.



Website Watching - Manage a list of websites for SpyBuddy to monitor, and if a specified keyword/phrase is found, it will record it.
Security and Concealment Features
Hidden Mode - SpyBuddy offers unparalleled concealment features. SpyBuddy has the capabilities to hide itself from every Windows operating system, thus ensuring that when you put it in hidden mode, it will be completely hidden from the user!



Log File Back Dating - Discretely backdate all log files to prevent file snoopers from detecting newly created log files.



Windows Startup - Configure SpyBuddy to startup for a single user, or to start up as a service for all users on the system - perfect for monitoring multiple users of a PC.



User-Based Startup - Configure SpyBuddy to only record specific users of a PC, rather than recording all the users.



Customizable HotKey - For total concealment, SpyBuddy allows you to customize the default hotkey.



Automatic Active Startup - Configure SpyBuddy to start in "Active" mode when it is started.



Password Protection - SpyBuddy is password protected to prevent others from starting/stopping the monitoring process, as well as changing SpyBuddy configuration settings!



Startup Alert - Automatically have SpyBuddy display a custom alert message when it is started - perfect for letting the users of the PC know that they are being monitored.



Spyware Defection & Removal - SpyBuddy can scan your system for possible spyware removal/anti spy software products. If such a product is found, it will prevent the application from interfering with SpyBuddy's monitoring process!



Customizable Security Settings - Customize SpyBuddy's wide array of security settings to prevent SpyBuddy from being tampered with while it is running.
E-Mail Delivery and Alerting Features
E-Mail Log Delivery - SpyBuddy contains functionality that allows you to have e-mail's sent to you containing recorded activity logs as a specified format (HTML/Excel/Text/CSV/XML) as well as desktop screenshots to your e-mail inbox at specified intervals. Perfect for remote monitoring a PC!



E-Mail Alert Warnings - SpyBuddy has internal functionality to immediately alert you if something happens on your PC that you should be aware of. If an action takes place that is tracked by the alert system, you will receive an e-mail in your inbox explaining the action that was taken and by what user of the PC (as well as time and date information).
Special Features:
Log Exporting - Export SpyBuddy Activity logs to 5 different formats, such as Microsoft Excel, HTML, CSV, Plain Text, and XML!



Log Filtering - Easily view recorded log data by date - perfect for when SpyBuddy has been running for long periods of time and you only want to see what it has recorded on a certain day.



Custom Log Location - Configure SpyBuddy to store log data wherever you please - whether it be on the local machine, a network drive, external disk, or anywhere else!



Inactivity Timeout - Automatically suspend SpyBuddy from monitoring the PC if the machine is inactive for a specified amount of time.



Scheduling Agent - Automatically configure SpyBuddy to start or stop at specified times and dates, or configure it to perform the same time everyday of the week!



Automatic Log Clearing - SpyBuddy can automatically eradicate old/outdated logs from the machine after a certain amount of data or keystrokes have been logged.



Thread Priority Adjustment - Adjust SpyBuddy to adapt to your system. Using the built in Thread Priority utility, you can make SpyBuddy run as fast as you need it to depending on your systems specifications!
... And more:
Friendly User Interface - SpyBuddy contains an extremely easy-to-understand (yet very powerful) graphical user interface. Thus, allowing you to familiarize yourself with the software in little to no time at all!



Quick Configuration Wizard - SpyBuddy comes with its own, highly powerful and easy to use configuration wizard. This utility will help you get up and running with SpyBuddy in just minutes!



Easily Transferable - SpyBuddy allows you to import/export your SpyBuddy settings (including your content filtering lists), so that you can quickly setup SpyBuddy on multiple machines with little hassle.



Precise User Tracking - SpyBuddy will ALWAYS logs the current Windows user and the time and date an action if performed. This will allow you to precisely track activity down to the exact user, at the exact time it happened.



Helpful Documentation - SpyBuddy includes a great help file to help you answer any possible questions you may have concerning SpyBuddy.



24/7 Technical Support - With your purchase comes a guarantee of technical support from our around-the-clock online technical support team.
Related software: