Most Popular
SpyNoMore
Registry Cleaner
PC Tools AntiVirus
SpyZooka
The Shield Pro 2007
Hide IP Platinum
SpamEater Pro
eTrust EZ Antivirus
Perfect Keylogger
Registry Booster
Handy Recovery
McAfee VirusScan
MyRegistryCleaner
The Shield Firewall
East-Tec Eraser
Smart Popup Blocker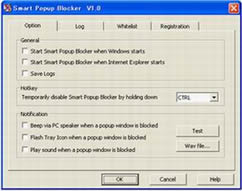 The annoying pop-up ad windows disturb your sights and occupy your system resource. How can you clear them? Ok,If you use the Smart Popup Blocker, the trouble will be gone.Smart Popup Blocker is an anti-popup product that can block 100% annoying popup ads absolutely automatically while never interfere with user's navigation.While Smart Popup Blocker is running, it tells Internet Explorer to stop all unsolicited windows from being downloaded and appearing.
Key features:
Block 100% pop-up ad windows
Smart Popup Blocker can stop all pop-up windows even if the windows are very "clever". And Smart Popup Blocker also can stop the windows that popup when you close your IE. Never see a pop-up again and enjoy your uninterrupted and peaceful surfing experience!



Easy to use
After you installed the Smart Popup Blocker, you do not need to make any configure. When you start your Internet Explorer, Smart Popup Blocker will automatically works for you. It only affect you nothing except can not see the ad windows.



Smart and fun
Smart Popup Blocker is very smart. It only stop the pop-up ad windows other than the new windows that your open. So it has no effect when you open a hyperlink in new windows. Smart Popup Blocker will play warning sound and flash icon when it kill a pop-up window.



Save your bandwidth
With the industry leading popup blocking technology, Smart Popup Blocker works at a low level in the Internet Explorer engine - stopping a potential ad in it's tracks before it even has time to download. This prevents popup ads from stealing bandwidth from your other legitimate downloads to speed up your Internet.
Related software: