Most Popular
SpyNoMore
Registry Cleaner
SpyZooka
The Shield Pro
Hide IP Platinum
SpamEater Pro
Perfect Keylogger
Registry Booster
Handy Recovery
McAfee VirusScan
MyRegistryCleaner
The Shield Firewall
East-Tec Eraser
NeT Firewall 2.3.1
Protect your system from hackers and viruses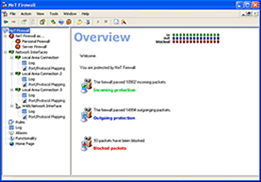 NeT Firewall is a comprehensive stateful firewall solution built to protect Windows-based systems not currently protected by a firewall. Stateful inspection technology tracks each packet traversing the firewall and makes sure that they are legitimate. A stateful inspection firewall also monitors the state of the connection and compiles the information in a state table ensuring that the source and destination of each packet is valid. NeT Firewall is more secure than application-based personal firewalls, yet less expensive than high-end firewalls, providing comprehensive intrusion protection. Don't need logged on user to load firewall rules and start packet filtering engine (option "Start Firewall as a service").
Main features :
A familiar and straight forward management tool.
Powerful and flexible rule based packet filtering engine.
Three levels of Stealth security.
Easy to use and flexible log.
Port/Protocol Mapping availability (PAT).
Registration Benefits:
Trial will NOT expire in 30 days
One year technical support via e-mail
FREE upgrade to new versions for one year
Product notification by e-mail
Beta testing for newest version
Technical Note:
Windows 95 (both Gold, OSR1 and OSR2) is not supported.
You are recommended to uninstall third-party firewall software prior installing NeT Firewall. NeT Firewall is fully compatible with native Windows ICS and firewall but we can't guarantee the compatibility with third-party packet filtering solutions.
Microsoft Internet Explorer™ (IE) and Windows NT™ 4.0 Service Pack can be downloaded from Microsoft web site at http://www.microsoft.com/downloads with no cost, you should download the versions in your native language.
NeT Firewall installation package includes a copy of Microsoft Management Console (MMC) 1.2 (English), it will be installed only when you have no MMC 1.2 installed already, you can download and install MMC 1.2 in your language from Microsoft web site with no cost (http://www.microsoft.com/windows2000/technologies/management/mmc/). If you are using Windows 2000 (all versions), Windows XP (all versions) or Windows .NET Server 2003 then you already have MMC installed.
IE 5.0 or higher is required because both MMC 1.2 and NeT Firewall management tools used Comctl32.dll version 5.80 or higher and used HTML help which are installed by IE 5.0 or higher (Windows 98 SE/Me/2000 already have IE 5.0 or higher installed with them), however, you do not need to set IE as the default web browser.
Hardware requirements:
Windowns 7/XP/2000/2003/Vista
10MB disk space
32MB-64MB memory
Related software: