Most Popular
SpyNoMore
Registry Cleaner
SpyZooka
The Shield Pro
Hide IP Platinum
SpamEater Pro
Perfect Keylogger
Handy Recovery
McAfee VirusScan
MyRegistryCleaner
Max Spam Shield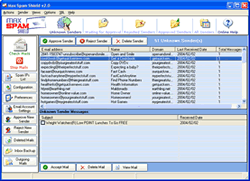 Introducing Max Spam Shield, the easiest way to check and manage your emails before you download them. Spam can be combated with advanced spam filtering software. A good spam filter can differentiate between legitimate email and spam email. The Max Spam Shield filter can be easily configured to work with any email program including: Microsoft Outlook & Outlook Express . We encourage you to give the Max Spam Shield filter a try. We think you will agree that Max Spam Shield's unique approach to filtering makes it the best spam filter on the market. Max Spam Shield is a powerful email checker with effective spam elimination. Uncover the most reliable and safe way to stop undesirable e-mails and viruses before they hog into your computer.
Features
Approval-based email management.



Easy Installation wizards make setup and program management a snap.



Permission management.



Supports multiple POP accounts owned by a single user.



Allows "approved" listing to be generated from Address Book.



Safe previewing of messages without information being sent back to spammers.



Client based for complete privacy.



Checks Spam Block List.
Related software: