Most Popular
SpyNoMore
Registry Cleaner
PC Tools AntiVirus
SpyZooka
The Shield Pro 2007
Hide IP Platinum
SpamEater Pro
Perfect Keylogger
Registry Booster
Handy Recovery
MyRegistryCleaner
The Shield Firewall
East-Tec Eraser
Intelli HyperSpeed
Optimizing Windows has never been this easy!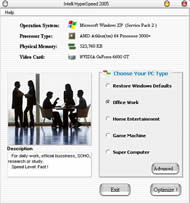 Slow down, freeze and crash are over. Intelli HyperSpeed empowers you to run your PC faster, more stably and more efficiently than any other optimizer. Using the ultimate optimization technologies, it provides you with 4 optimization modes: work station, home entertainment center, game machine, or technical computing. You can choose any mode or switch among them freely according to your need. Success is just 2 mouse clicks and a few seconds away.

Intelli HyperSpeed will thoroughly examine your Windows system, accurately detect the bottlenecks slowing down and crashing your computer, automatically find the best settings for optimizing Windows to the hilt, and dramatically boost your computer operation and Internet connection speed by up to 600%.
Key Benefits :
Allows Switching among Four Optimization Modes Freely and Quickly
Makes Hardware Work Better for Windows and Windows Applications
Fully Optimizes System Settings for Ultimate Performance
Boosts Internet Connection Speed to the Limit
Accurately Repairs Problems and Removes Unnecessary Clutter
Eliminates System Bottlenecks and Prevents Crashes
Has Super Easy to Use Automatic Processing
Works in 1 Minute or Less
Intelli HyperSpeed features:
Exclusive! Intelli OptimizationEngine.
Gives you 4 levels of optimization: Office Work, Home Entertainment, Game Machine and Technical Computing. Possibly the fastest and most complete Wind\ows optimization engine in the world, it is completely compatible with Windows XP, 2000 and even Longhorn (Version 5048 passed).



Exclusive! Intelli ServiceOptimizer.
Streamline NT service system in accordance with your desire and highly optimize the resource of your operation system. It sorts the NT services and then tunes them up by startup type and current state information. It will highly tweak Windows and improve computer performance.



Exclusive! IntelliClean.
Clean autorun programs and prefetch (Windows XP optimize only) in an intelligent way. Frequently deleting these items will actually slow down your system since Windows needs them to work properly. Our novel technology can judge a proper time to clean the useless and unnecessary items with an optimization guide.



Exclusive! IntelliSafe.
A lifeguard than can undo all your changes if necessary. If your computer is not suited to the Optimization you choose or you fiddle with a setting or two better left alone, IntelliSafe provides you with seamless switches among 4 optimization modes or restores Windows default settings for you.



Novel! 2-Clicks Optimization.
Get up to 600% acceleration, with 2 clicks, without making your computer unstable or incompatible. No settings to change, nothing to do but click the desired computer type, click Optimize, then Reboot.



Novel! Total Performance Acceleration.
Intelli HyperSpeed knows your computer needs and knows where it has to tinker to speed things up. It accelerates download, optimizes your Windows system and other software. Result: a performance boost in both Internet connection and Windows speed.



Novel! Repairing improper Configurations.
A few system configurations are proven bad tweaks that can do nothing for your system or even make Windows crash. Intelli HyperSpeed analyzes your system for settings that could be slowing you down, corrects them and provides you with valuable settings that optimize your hardware and software.
Related software: