Most Popular
SpyNoMore
Registry Cleaner
PC Tools AntiVirus
SpyZooka
The Shield Pro 2007
Hide IP Platinum
SpamEater Pro
eTrust EZ Antivirus
Perfect Keylogger
Registry Booster
Handy Recovery
McAfee VirusScan
MyRegistryCleaner
The Shield Firewall
East-Tec Eraser
Evidence Sweeper 2.8
Removes traces of your PC and internet activity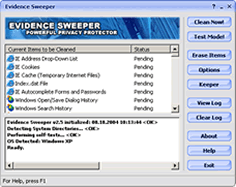 When you surf or download, the more "Internet build-up" clogs your hard drive with cached Web pages, browsing histories, cookies, ActiveX controls and key registers. This digital debris robs valuable disk space. Also it affects system performance and can even compromise your privacy. Evidence Sweeper includes more 60 application plug-ins to eliminate history data of the most popular applications. Every day, Evidence Sweeper safely eliminate Web and PC clutter without deleting essential information. For security peace of mind, it also can destroys data with proven methods of secure disposal similar to US Department of Defense standards.
Benefits
Automatic cleaning
Allows to schedule automatic cleaning cycles at specified intervals, during shut down or start-up.



Protects Internet Explorer
Protects Internet Explorer Homepage against automatic changing by some web-sites.



Privacy Control
Very fast deletes confidential information, including your Web browsing trail, so others can't track your surfing habits.



Custom Erase Items
Lets you customize items for erasing.



Plug-In Editor
With Plug-In Editor you can create your-own plug-ins for Evidence Sweeper.



Most Recently Used (MRU) File Cleaning
Protects privacy by removing telltale lists of files recently accessed in popular Windows applications.



Last Recently Viewed Video Files
Protects privacy by removing telltale lists of files recently viewed in the Windows Media Player.



Free product upgrades and email technical support
You never pay again for future versions!
Evidence Sweeper Removes These Tracks:
Cache(Temporary Internet Files)



Cookies



Internet Explorer Location Bar History



Windows Media Player Recent File List



Recent Documents



Windows Search History



Start Menu Run History



Open/Save History



Windows Temporary Files Directory



Other (more 60) Popular Applications History Data
Related software: