Most Popular
SpyNoMore
Registry Cleaner
PC Tools AntiVirus
SpyZooka
The Shield Pro 2007
Hide IP Platinum
SpamEater Pro
eTrust EZ Antivirus
Perfect Keylogger
Registry Booster
Handy Recovery
McAfee VirusScan
MyRegistryCleaner
The Shield Firewall
East-Tec Eraser
AIM Spy Monitor 2010 V9.0
recording AIM's incoming and outgoing text messages!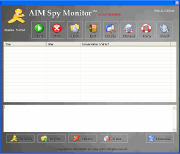 AIM Spy Monitor spy software can secretly record all AIM's incoming and outgoing chat text messages. It runs in a complete invisible mode. You can check all recorded messages by simply receiving emails or opening a web page.

Perfect for catching cheaters, monitoring employees, children or spouse, and even investigating crimes.
Key Features in AIM Spy Monitor:
AIM Chatting Conversations
monitor and record latest version AIM chatting conversations with time stamp, user names and all incoming / outgoing messages. It also logs the username and password used to login in a messenger.



Stealth mode:
AIM Spy Monitor run absolutely invisibly under Windows systems and does not show in Windows task list. You can also choose to hide or unhide AIM Spy Monitor icon and its uninstall entry.



Logs view:
choose to view different type of logs from program main interface. You can delete selected logs or clear all logs, search logs or export logging reports in HTML format.



Task Schedule:
You can set starting and ending time for each task to automatically start and stop the monitoring job.



Report Delivery:
Send logging reports in HTML format to an emailbox at set time intervals.



Easy-to-use Interface:
configure AIM Spy Monitor with either Wizard for common users or control panel for advanced users. User-friendly graphical program interface makes it easy for beginngers.



Related software: