Most Popular
SpyNoMore
Registry Cleaner
PC Tools AntiVirus
SpyZooka
The Shield Pro 2007
Hide IP Platinum
SpamEater Pro
eTrust EZ Antivirus
Perfect Keylogger
Registry Booster
Handy Recovery
McAfee VirusScan
MyRegistryCleaner
The Shield Firewall
East-Tec Eraser
4t Explorer Sweeper 2.0
4t Explorer Sweeper - keep your important data safe on the net!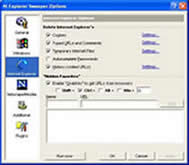 As internet technology improves, interactions with companies that interest you become faster, smarter and more efficient. However, this technology is also being used secretly, not always for companies you wish to share your data with, and at a detriment to your PC's performance.

4t Explorer Sweeper clears browsing history such as cookies, temporary Internet files, index files, recently accessed files, URL's, search terms, passwords, etc. It also speeds up PC performance, increases free disk space and improves security by clearing the content of various Explorer and Netscape folders.
Sweeper features:
Supports MS Internet Explorer 4.xx, 5.xx, 6.xx, Netscape 4.xx, 6.xx and Mozilla 1.x. Detects multiple Netscape 4.xx, 6.xx and Mozilla 1.x profiles automatically without harddisk scanning.



Runs automatically by your choice. Running 4t Explorer Sweeper on Windows shutdown lets you automatically clear all your private data, which should not be shared with anybody before you will logoff from your PC. During your Windows session application can run automatically every several minutes. To speed up your browser 4t Explorer Sweeper may not remove files and clear settings until you will end browser session ("AutoKill" feature). Also "Run deleting on Startup" option available.



Quick sweep in separate modes. 4t Explorer Sweeper allows to quickly run separate sweep modes, like: Clear IE, Clear Netscape/Mozilla, Clear Windows, Clear Additional.



Separate modes for Plugins. 4t Explorer Sweeper includes GetRight MRU cleaning Plugin, Google bar cleaning Plugin, Media Player MRU cleaning Plugin, RealPlayer MRU cleaning Plugin and MS Office 2000 MRU cleaning Plugin.



File Shredder. 4t Explorer Sweeper can change file's content before deleting it. So, even utilities for File Restoring never can restore you deleted private information.



Can clear AutoComplete history in Internet Explorer and Netscape. Autocomplete is a useful feature, but it is dangerous too as anybody else can easy access your personal accounts on your favorite sites by getting your usernames, passwords and even steal your credit card information from browsers forms. Get rid of these problems with 4t Explorer Sweeper.



Can clear browsers cache folders. Totally removes cached pages, images and other files from your browser's cache (temporary internet files) folders.



Can remove Internet Explorer & Netscape Cookies files. Almost every time you access a site, some of your personal settings (even usernames and passwords) are stored by browsers on your PC in not protected storages. 4t Explorer Sweeper protects your privacy by clearing these storages.



Can clear visited links history in Internet Explorer and Netscape. Visited links are accessible from browser's address bar. To don't let anybody else monitor your surfing activity 4t Explorer Sweeper clears browser's visited links history.



Can clear Windows Temporary files folder, Recent Document list, Recycle Bin content. Clear these folders to speed up your PC and increase free disks space.



Clears customized additional folders. You can easy specify some additional folders which will be kept empty by 4t Explorer Sweeper.



Clears Windows Command prompt autocomplete list. Every time your type a command in the Windows Command prompt it is being stored and can be show to anybody from the autocomplete list. Let 4t Explorer Sweeper clear this list.
Miscellaneous:
Hides and restores all Internet Explorer & Netscape windows by customized keyboard shortcut.



System Tray and Invisible modes. 4t Explorer Sweeper can run in System Tray mode or in Invisible mode (all features and keyboard shortcuts are enabled in both modes).



Maintains 'Hidden Favorites' list. Microsoft Internet Explorer lets you type 'about:alias_name' ('alias_name' is your customized name for some favorite URL) string in its Address bar to access your favorite site fast and secure (shortcut's name will not be displayed in Favorites menu).4t Explorer Sweeper extends this functionality by letting you adding URLs to the list of 'Hidden Favorites' right from currently opened sites by customized keyboard shortcut.



Internationalization. This program has the special unique international feature implemented. English, German, French, Spanish, Slovak and Polish languages are supported.
Related software: