Most Popular
SpyNoMore
Registry Cleaner
The Shield Pro
Hide IP Platinum
SpamEater Pro
Perfect Keylogger
Handy Recovery
McAfee VirusScan
MyRegistryCleaner
The Shield Firewall
East-Tec Eraser
Spyware Detector 2.0
Detect and safely remove spyware and adware from your PC.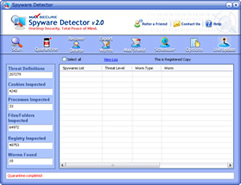 | | |
| --- | --- |
| >> | Advanced technology to detect & delete special spywares. |
| >> | High scanning speed with detailed threat analysis. |
| >> | Appealing and User friendly interface. |
| >> | Enhanced active protection to protect your online privacy. |
| >> | Registry fix feature to restore your original settings. |




Stop Spywares from Invading your Privacy and Reducing PC Performance

Growing spyware attacks and constantly changing spyware technology are placing personal information, privacy, and even your identity at risk.

We at Max Secure Software provide you the most robust solution against Spywares. We have developed the world class Anti Spyware, Max Spyware Detector which is a complete solution for individuals, professionals and home users. The software is specially designed to scan, detect, delete and recover spywares with an option of quick and full scan.

Spyware Detector Features:
Enhanced Detection
We have a dedicated database team which uses state-of-the-art spyware research methods and identifies new spyware threats before they are widely distributed. Max Spyware Detector ensures that you have the most powerful and up-to-date protection against new emerging spyware threats.



Advanced Blocking
Max Spyware Detector has advanced blocking features which block ActiveX, Browser Header Objects, Tracking Cookies; you can also block the bad websites or the websites you feel are not worth browsing. This feature blocks the new spyware installations, ensuring that you have peace of mind you desire.



Active Monitoring
Max Spyware Detector also protects your privacy and provides you security by actively protecting you against the Malicious processes, Homepage hijackers and Tracking Cookies. Thus giving you the peace of mind while you are browsing.



Complete Removal
Max Spyware Detector detects and deletes the toughest spyware programs in just one scan. Also it provides advanced and comprehensive cleaning technology for the special spywares which are the nastiest next-generation spyware threats.
System Requirements:
Pentium Class Processor
128 MB of RAM available
15 MB of free hard disk space
Windows 7, Vista, XP, 2000
Related software: