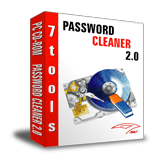 Buy Now : $ 24.95


Screenshots
7tools Password Cleaner is an extremely powerful program without any technical boundaries. At the same time, it is so easy in use that even a kid is able to run it .

Cleaning a password means that you change your forgotten password to a blank one. When you log in as a user with the blank password, you don't need to enter anything in the password field. Just press the Enter button and you are already logged in. For safety reasons, it is necessary to set a new password instead of the blank one as soon as possible .

The program allows you to clean a password of any user account including Administrator. You can clean passwords one by one or all passwords at once. The program can clean passwords for Windows 7/Vista/XP/2003. Even if your passwords have been encrypted by the Syskey utility (supplied with Windows 7/Vista/XP/2003), the program can clean such passwords.