Most Popular
SpyNoMore
Registry Cleaner
The Shield Pro
Hide IP Platinum
SpamEater Pro
Perfect Keylogger
Handy Recovery
McAfee VirusScan
MyRegistryCleaner
The Shield Firewall
East-Tec Eraser
XoftSpy 4.21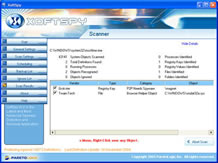 XoftSpy is the Latest and Most Advanced Spyware Detection and Removal application on the Internet. We will prevent anyone from "spying" on your Internet activites.

Use our Free Scanner to find out if your PC is infected with:Spyware; Adware; W32/Spybot; Malware; Browser Hijackers; Browser Hijackers.
Further Details
Removes Adware, Spyware, W32/Spybot, Malware, Pop-up Generators, Keyloggers, Unwanted Toolbars, CWS, Trojans and Browser Hijackers
One of the largest databases in the industry
- 44,000+ Definitions
- New definitions added Weekly
Free definition updates
Backup and restore capabilities
Prevents identity and credit card theft
Increases your computer's speed
Who Would Benefit from Anti-Spyware Software, XoftSpy?
Anyone who surfs the Internet or shares their computer with others
Computer users who share files such as music and pictures with other individuals
How Can XoftSpy Protect your Security and Privacy?
Complete scan of your computer system to detect Spyware parasites
Quarantine infected files for immediate protection
Ability to review and remove all forms of Spyware
Regular updates on new Spyware threats
Related software: