Most Popular
SpyNoMore
Registry Cleaner
PC Tools AntiVirus
SpyZooka
The Shield Pro 2007
Hide IP Platinum
SpamEater Pro
eTrust EZ Antivirus
Perfect Keylogger
Registry Booster
Handy Recovery
McAfee VirusScan
Popup Destructor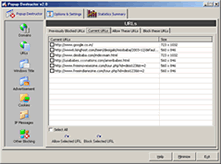 Popup Destructor is an acknowledged popup killer to block popup ads in IE 5.0 & above and is a tested software that helps the user to block popup ads in an efficient manner. It maximizes your surfing speed by guarding your system against annoying unwanted popup windows. With fully customizable options that allow you to configure Popup Destructor to meet your surfing needs, you will never again be choked by the endless pop-up window-opening loop! Popup Destructor helps to preserve your Internet security and does not allow the pop up ads to take over your Internet bandwidth. Popup Destructor also enhances security by blocking popup ads from downloading into your system.
Features
Allows the user to watch the number of killer popup ads that are blocked.
Speeds up your surfing by preventing popups from eating up your bandwidth.
Gives configurable warnings to alert you when a site attempts to open a popup.
Blocks ads in chat programs like MSN, AIM, ICQ and others. Also Blocks ads in Kazaa and Morpheus.
Blocks many Banner Ads.
Customizable settings give you the flexibility to 'ALLOW' or 'BLOCK' popups from an entire Web Site.
The user can specify to auto-load Popup Destructor on Windows startup.
Allows a user to press a key and allow a recently blocked popup based on domain, url, or window title.
Tested successfully to block multiple killer popup ads in one go.
Runs silently in the background.
Easy to turn on and off. Click the taskbar icon to enable or disable the Popup Destructor.
Free customer support & upgrades.
Supports Internet Explorer 5.0 and above.
Related software: