Most Popular
SpyNoMore
Registry Cleaner
SpyZooka
The Shield Pro
Hide IP Platinum
SpamEater Pro
Perfect Keylogger
Registry Booster
Handy Recovery
McAfee VirusScan
MyRegistryCleaner
The Shield Firewall
East-Tec Eraser
RegCure Registry Cleaner
Scan, Repair and Optimize your PC.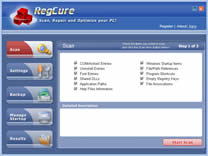 Click to Enlarge
Protect your investment and ensure maximum PC speed and performance with RegCure registry cleaner. Compatible with all Microsoft products and third party applications, RegCure seeks out and repairs those issues in your registry that lead to poor performance such as remnants left behind on your registry from failed installations, incomplete un-installations, disabled drivers, and spyware applications

Enhance your P.C. - Enhance your life! Let RegCure reveal your system's true potential.
Key features :
Clean your registry manually according to your own specifications or perform a thorough scan and clean it automatically!



User-friendly interface allows you to monitor the progress of your scan



Schedule scans at the times that are best for you and will even manage and clean up your start up programs



Compatible with all major Windows operating systems and includes a full back-up utility to make your registry cleaning experience as easy and safe as possible
Minimum System Requirements:
Intel Pentium II processor (or equivalent)
64MB RAM
15MB free hard disk space required for initial installation
Internet Explorer 6 (or greater)
Windows 7, 2000, Vista, XP
Related software: