Most Popular
SpyNoMore
Registry Cleaner
SpyZooka
The Shield Pro
Hide IP Platinum
SpamEater Pro
Perfect Keylogger
Registry Booster
Handy Recovery
McAfee VirusScan
MyRegistryCleaner
The Shield Firewall
East-Tec Eraser
Secure IE and Private IE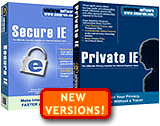 Browse Safer, Faster, and More Securely !

Secure IE with security zones that deny privileges for all but the most trusted sites. Block Flash, block popups, automatically route all file downloads through your virus scanner. Save complete web pages (even HTTPS pages!) And much more...



Get added secruity with secure IE:

Secure IE maximizes security and protects your computer from hackers and other dangerous threats. It protects your computer at the main point of external contact - your web browser - and tightly restricts what websites can and cannot do to you. Secure IE closes an important potential security hole by specifically addressing malicious behavior from websites.

Secure IE:
New! Features a great new interface!
New! Features Comprehensive Security with the Internet Security Manager - which automatically detects and configures your computer's Internet security settings. You can also easily categorize and organize sites based on how much you trust them.
New! Secure IE Browser Shield - Secure IE's Browser Shield filters out prohibited ActiveX Controls and other security risks.
New! AutoUpdate - Secure IE automatically downloads security updates from Winferno Software every 7 days.
New! Built in Access to Search Engines and Web Services - Secure IE 2004 now features a built in search box that automatically connects to popular search engines such as Google, Yahoo, Dictionary.com, etc.
New! Zone Based Popup Blocking - Secure IE automatically exempts Trusted Sites from popup blocking.
Blocks Active X - In one click block Active X from all but trusted sites. Some sites will use Active X to download malicious files onto your PC - without your knowledge!
One click access to Security Zones - In one click classify a site as Trusted or Restricted.
Intercept Malicious File Downloads - Secure IE intercepts all file downloads and virus-scans all downloads (requires McAfee VirusScan or Norton Anti-Virus)
Block Popup ads and Flash - Turn these features on or off with one click.
Get added Privacy with Private IE:

Private IE removes sensitive personal information from your computer - and enables you to browse without a trace!

Secure IE:
New! Features a great new interface!
New! Clear Private Information based on Internet Security Zones - Uses Internet Security Zone classifications to selectively clear sensitive private information (Browser Cache, History, and Cookies) while retaining Trusted cookies for automatic logins to Trusted Sites.
Automatically clears browser history - so no one can see which sites you've visited.
Rejects and deletes cookies - so sensitive information such as your credit card details and passwords stay PRIVATE!
Wipes your Recent Documents list - so no one can see which documents you've worked on.
Deletes your cache - which contains a secret record of every site you've ever visited!
Clear Windows Temporary Files - Set to automatically delete temporary files every time you exit the Web.
Empty Recycle Bin - Set to automatically empty Recycle Bin.
Related software: