Most Popular
SpyNoMore
Registry Cleaner
SpyZooka
The Shield Pro
Hide IP Platinum
SpamEater Pro
Perfect Keylogger
Handy Recovery
McAfee VirusScan
MyRegistryCleaner
The Shield Firewall
East-Tec Eraser
Asmw Eraser Pro
Remove Internet Tracks and PC activities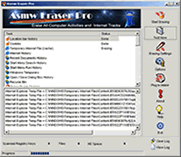 A lot of Information stored in your computer than you think. Every site you visit, every file you open... is logged. Somewhere in your PC.
You may clear your IE history and empty your Recycle Bin. But a simple browse through a few key Windows files will soon uncover your habits.

Don't you think you need a program to completely "Erase" your system at the click of a button?
Here's what Asmw Eraser Pro does...
With one simple click, the customizable Asmw Eraser Pro can:
Run Asmw Eraser Pro in test mode
Erase your browser history
Erase your browser cache
Erase all your system cookies
Remove your visited and typed URL list
Clean the hidden, locked index.dat file
Remove all Windows temporary files
Clear "Find" searches from the Start menu, history and documents
Empty your Recycle Bin
Erase Open/Save dialog box history
Ensure NO Recovery For data on your machine
Delete any directories or files your specify, using maximum security
Create Log file
With BONUS support for clearing the histories of:
Acdsee, Aol, Download Acclerator, CuteFTP
Flash Get, GetRight
Google Toolbar, Hotbar, ICQ, Kazaa
Windows Media Player, Media jukebox
Microsoft paint, wordpad, Imaging, NetCaptor, Office (XP)
WinRar, WinZip, Yahoo! Messenger .... and more!
You Could Define your own programs using the free Plug-ins Maker
You can also customize Asmw Eraser Pro to:
Launch in the start tray and run on demand
Run in stealth mode
Automatically run at startup and shutdown
Schedule when you'd like an "Asmw eraser Pro" to occur
Protect Your Home Page from being changed
Related software: