Most Popular
SpyNoMore
Registry Cleaner
PC Tools AntiVirus
SpyZooka
The Shield Pro 2007
Hide IP Platinum
SpamEater Pro
eTrust EZ Antivirus
Perfect Keylogger
Registry Booster
Handy Recovery
TZ Popup Killer & Ads Filter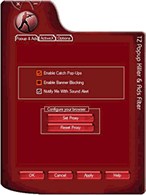 "Popup Ads" slow down your computer's prformance. If you are inhabited by pop-up ads and are not happy about those mysterious pop-ups running on your computer while you surf the net and would like to get rid of these unwelcome intruders, then try TZ Popup Killer & Ads Filter which will give you your internet freedom back and bring your system back to normal speed.
Main Features:
Configure sites to block and allow popup.



Never interfere with opening new windows.



Simply download and launch it.



Integrated with Browser (as a toolbar)



Save Network Bandwidth



Has a live update feature when a new pop-up ad type or browser is supported.



Uses Multilanguage.
Related software: