Most Popular
SpyNoMore
Registry Cleaner
SpyZooka
The Shield Pro
Hide IP Platinum
SpamEater Pro
Perfect Keylogger
Registry Booster
Handy Recovery
Trace Remover 1.2.2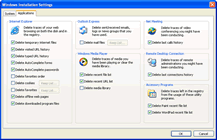 Trace Remover will remove all traces of usage on your computer. It removes temporary files, history of opened documents, applications, network locations and much more. You can also choose to remove any custom files, folders or file masks of your choice. Trace Remover is compliant with the US Department of Defense 5520.22-M specification which means that everything you delete will be 100% unrecoverable. Detailed summary reports of actions are displayed so that you can know for sure what has been done.
Click Here to Buy Now for
: $ 15.00
Key Features :
Securely delete specified files and folders making them 100% unrecoverable.
Delete internet cache, temporary files, internet history, visited URLs, last opened documents and much more.
Delete specified custom files matching certain file extensions.
Delete contents in specified folders and all sub-directories and files within them.
Compliant with the US Department of Defense specification 5520.22-M for secure deletion of all files and folders.
Online tooltips for instant help.
System requirements:
Windows 7, 2000, XP, Vista.
5MB for program files and documentation
128MB of RAM.
Related software: