Most Popular
SpyNoMore
Registry Cleaner
PC Tools AntiVirus
SpyZooka
The Shield Pro 2007
Hide IP Platinum
SpamEater Pro
eTrust EZ Antivirus
Perfect Keylogger
Registry Booster
Handy Recovery
McAfee VirusScan
MyRegistryCleaner
The Shield Firewall
East-Tec Eraser
SpyCatcher 5.1
Detect and Remove Spyware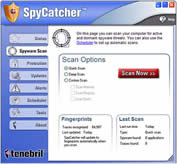 << Allows novice PC users to remove aggressive spyware
<< Stops next-generation, mutating spyware
<< Blocks reinstallation of aggressive spyware
<< Prevents identity theft
<< Removes spyware safely and automatically
<< Database receives 6 million spyware submissions per day

SpyCatcher: Detect and Remove Spyware
According to the National Cyber Security Alliance, spyware infests more than 90 percent of all PCs. This fast-growing Internet threat is also one of the least obtrusive; spyware silently bypasses firewalls and anti-virus software, affecting computer performance and introducing security risks, often unbeknownst to the user.

Advances in spyware programming, including mutating and custom-coded spyware, require a solution that exceeds traditional fingerprint and signature matching.

SpyCatcher is the only antispyware title to stay ahead of spyware evolution by using contextual intelligence and behavioral analysis that provide preemptive blocking techniques. SpyCatcher enables users of all technical abilities to remove even the most aggressive spyware automatically.
Features:
The Best Defense Against Spyware — Protects against spyware, adware and other potentially unwanted programs. SpyCatcher is the only antispyware product to block threats associated with next-generation, mutating spyware.



Ease of Use, Control and Performance — Enables novice PC users to disable even the most aggressive spyware automatically. DeepDefense™ ensures comprehensive protection by detecting and stopping spyware before it can install, providing proactive, immediate protection and reducing the need for spyware scans.



The Industry's Fastest, Most Powerful and Comprehensive Spyware Detection — Ensures cutting-edge protection through the patent-pending Spyware Profiling Engine™, a three-pronged method for spyware detection (profiles, behavioral analysis and contextual intelligence). Competitors typically use one detection model, preventing them from blocking mutations and the latest threats.



The Safest and Most Efficient Spyware Removal — Disables even the most aggressive spyware without requiring technical prowess from the user. SpyCatcher automates the removal process and helps you distinguish between good and bad programs, enabling you to remove programs with confidence.



A Leader in Antispyware Research — Receives more than 6 million spyware submissions per day and adds them to an extensive database of malicious files that are gathered from 3 sources: automated research, voluntary submissions from users and dedicated analysts at Tenebril's Spyware Research Center.
System Requiremnets:
Windows 2000/ XP/Vista/Windows 7
300 MHz or better
256 MB RAM
80 MB hard disk space
Internet Explorer 6.0 or higher
Internet connection (for automatic updates)
Related software: