Most Popular
SpyNoMore
Registry Cleaner
PC Tools AntiVirus
SpyZooka
The Shield Pro 2007
Hide IP Platinum
SpamEater Pro
eTrust EZ Antivirus
Perfect Keylogger
Registry Booster
Handy Recovery
McAfee VirusScan
MyRegistryCleaner
The Shield Firewall
East-Tec Eraser
My Privacy 3.1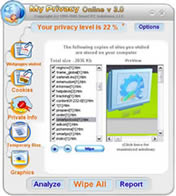 My Privacy a software application intended for probing the confidential information stored on your computer on its vulnerability to unauthorized access by hackers. Perhaps, I have no idea that your computer may contain your private information which you have long forgotten about. These may include your credit card information, login names, passwords as well as cookie files tracking your Web surfing habits. You need to be aware of what and where sensitive information is stored on your computer and purge it on a regular basis thus making information theft useless. My Privacy supports Netscape and Mozilla Firefox web browsers.
My Privacy features:
Web-pages visited!
My Privacy shows Internet addresses which you typed in the address string of your computer
browser or visited.



Internet Cookie files!
When your surf the Web an Internet site sends a cookie file which is stored on your computer. Such files contain information about your identify and preferences. By using My Privacy you can periodically remove the stored information in cookie files from your system, ensuring your privacy on the Internet .



Private Info!
My Privacy locates and classifies the following types of private data on your computer.


Private data of personal character
Login names, passwords
Financial information including credit card numbers
Other info


Upon retrieval of this information you can purge it all or delete selected parts. Then you can be sure that your data will not be a trophy for numerous hackers.



Temporary Internet Files
When you surf the web information from every website you visit is stored on your computer. Web browsers cannot provide full privacy as they do not clean up all hidden files containing data about your actions. My privacy will give you a hand to handle this .



Graphics
The Temporary Internet files folder of your computer stores not only web-sites but its graphic part. Besides personal character of this information it also occupies much space on your hard drive and may build up with no almost limits. My Privacy will allow you to evaluate the volume of this information and discard unnecessary graphic files.
Related software: