Most Popular
SpyNoMore
Registry Cleaner
Tracks Eraser Pro
XoftSpySE
The Shield Pro
Hide IP Platinum
SpamEater Pro
Disk Clean Wizard 1.30
Keep your disk clean !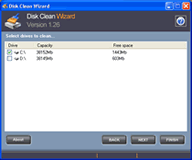 Every time your run or install program it create temporary files on your disk without your knowledge. These files are frequently not deleted and can therefore take up large amount of disk space and slow down the performance of your computer. Disk Clean Wizard can find and remove these files without affecting your work in any way. Disk Clean Wizard is a user-friendly application that recognize more than 50 types of junk files and removes them in four steps.
Sweeper features:
Recovers upto 1Gb of drive space .



Recognize and deletes more than 50 types of junk files.



Extimely fast.



Easy to use.



Compatible with Windows 7/Vista/2000/XP .
Related software: